Offloading and relocation of laser cutting machine in Greenville, SC
---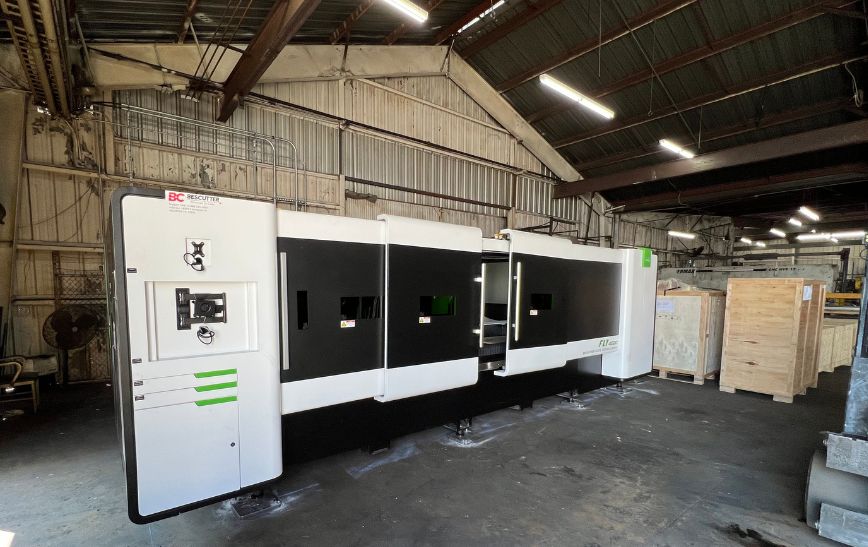 In a recent achievement, Beck & Pollitzer USA showcased their expertise in rigging by successfully executing a precision offloading and moving project in Greenville, SC. The project was undertaken for an old client who specialises in innovative ASRS rack systems, carton flow solutions, pallet flow systems, and robust structural pallet racks.
At the heart of this venture was the meticulous relocation of a state-of-the-art laser-cutting machine. The task involved not only offloading the machine but also manoeuvring it into a designated space, carefully crafted during the initial phase, which encompassed the internal relocation of a substantial 40,000-pound shear press.
Surmounting challenges through expert collaboration
The project encountered an unforeseen challenge when the actual weight of the laser-cutting machine surpassed the initially reported figures provided by the client. This disparity prompted a swift response from our experienced professionals who swiftly recognized that relying solely on our 30,000-pound forklift would not suffice.
To ensure a secure and successful outcome, our team collaborated seamlessly with the client's maintenance crew. Leveraging the power of their two robust  8k to 10k pound forklifts in conjunction with our equipment, we orchestrated a secure and punctual placement for the 30,000-pound laser cutter on the very same day. The strong bond we've established with this customer is clear from how quickly they sprung into action to address the unforeseen problem, working harmoniously as a team.
Originally slated for a two-day timeframe, our adept team managed to accomplish the heavy rigging offload project in an astonishingly efficient single day. This achievement reflects our commitment to delivering results that not only meet but exceed expectations.
Beck & Pollitzer USA stands ready to navigate the intricacies of heavy machinery moving and rigging services, providing you with solutions that streamline your operations and safeguard your investments. We invite you to connect with our local office if you require comprehensive guidance and expert insights regarding machine rigging necessities.